Cabo Wabo Radio
October 12, 2007
PRESS RELEASE
SAMMY HAGAR PRESENTS

"PURE ROCK RADIO THE WAY GOD INTENDED IT"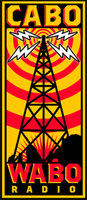 This Friday, October 12
th
, "All Sammy Eve," one day before his birthday, Sammy Hagar will introduce one of the most innovative radio stations in the history of radio.
Cabo Wabo Radio will be a revolutionary breakthrough in rock radio: "All UP, All Rock. All Party, All the Time" featuring LIVE Concerts and live and produced broadcasts from studios inside the legendary Cabo Wabo Cantina in Cabo San Lucas Mexico.
Cabo Wabo Radio will feature nothing but feel-good, party energy, cutting edge New Rock from all over the world, together with a huge catalog of the greatest and most exciting feel-good, party energy rock from the past twenty five years.
"Cabo Wabo Live" will feature interviews with stars on vacation and interesting people from around the world, and live concerts from major stars and the hottest new artists in the world. It's a World Party of Biblical Proportions.
Sammy is proud to announce a Sneak Peek Pre-Launch Celebration of Cabo Wabo Radio beginning at noon (pacific) Friday, October 12
th
, and continuing through Monday morning at 1am October 15
th
at the pre-launch website:
http://www.cabowaboradio.com/
.
Sammy wants to give people around the world a glimpse of what's to come at Cabo Wabo Radio, so log on beginning at noon to hear radio like you've never heard it before. All weekend long it's "The CABO WABO 55," Fifty Five Hours Of Music You Can't Drive Without. Listeners will hear the most exciting new rock being created around the world and the hottest rock from the past.
PLUS! On Saturday night, October 13th, from 6pm to midnight, it's Sammy Hagar's gigantic 60th Birthday Bash! Join Sammy backstage for the first "CABO WABO LIVE," a gigantic birthday celebration and party featuring Sammy Hagar and the Wabos in concert LIVE from the Cantina stage.
It's the biggest party of the year and Sammy and Cabo Wabo Radio co-founders and creators Shadoe Stevens and Woody Nelson will be there backstage with nonstop
LIVE music and interviews with Sammy and friends like Kenny Chesney, Toby Keith, Emeril Lagasse, and surprise guests.
All visitors will be invited to sign the guest book to become V.I.P. Members. You'll be notified about the debut of the complete, full-service website and official station launch when the station and website go online LIVE before the end of the year.
VIP members will have access to behind the scenes videos from Sammy on tour, hear live concerts by some of the newest groups and biggest stars in the world, get special prices on trips to Cabo, hear special features and messages from Sammy, get preferred tickets and advance notices on shows and new music, and be able to listen to CD quality, Feel-Good Rock 24 hours a day, guaranteed to make you feel better whether you want to or not.
It's Pure Rock Radio Smuggled Across the border from Mexico 24 hours a day, Cabo Wabo Radio. Join us beginning this Friday, October 12th at noon.