Birthday Bash Registration Dates 2015
August 03, 2015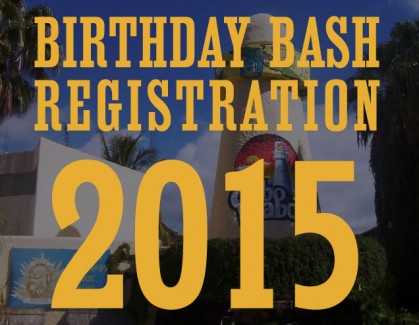 Registration dates are announced!
Registration will run from July 20 through July 27.
You may register at anytime during this period. Please remember there is only one registration per household per show. The random drawing will be completed shortly after the registration period ends and the tickets will be processed.
After that we will complete any returns that are needed and move forward with the 2nd chance drawing!
Here is the link to the registration page! http://bdaybashtickets.redrocker.com/
Can't wait to see you all in Cabo!!
[WEBMASTER UPDATE 8/3/15 2:30pm PST]
The payments have been processed for the winners of the Bday Bash nights. You will recieve an email if you have won tickets from the lottery. Congrats to all who won! If you are afraid your email may have gotten deleted or sent to your spam folder you can visit this link to verify your order and resend the email: http://redrocker.inticketing.com/retrieve.php
For those who cannot secure travel arrangements following their purchase, we are providing a special on-time refund window until August 17th 10pm PST. This is done by emailing your request WITH YOUR ORDER NUMBER to info@redrocker.com - No other exceptions will be made!
Any return tickets will be distributed through a second random drawing that will require you to re-confirm your registration to be eligible for the selection. New registrations WILL NOT be accepted. More details will be announced once we know how many tickets become available.
Note: If you are planning on being in Cabo during the shows anyways, the only other tickets that will be available are extremely limited dinner ticket packages that will be sold first come, first served only from the venue. Please read more about these tickets below:
Dinner show tickets will be $90 per person
Dinner show tickets are for the same show as the GA tickets but include dinner at the cantina.
If you have GA tickets you cannot add the option of adding dinner.
Dinner shows tickets sales will remain as in the past, they will be sold at the Cantina, first come first serve.
Dinner tickets will be sold at noon on the following dates:
October 6th for the Shows on the 7th and 9th
October 10th for the Shows on the 11th and 13th
2 tickets per person, added security will be added to those in line to prevent anyone from holding places in line for friends. Dinner ticket details may change leading up to the event, so please check back prior to coming to Cabo!