BIRTHDAY BASH 2023 TICKETING INFO 7/24 UPDATE
July 24, 2023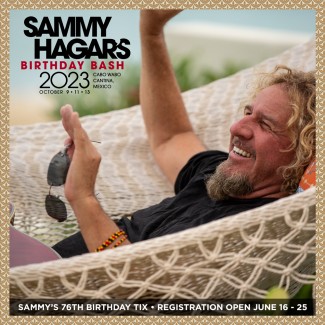 It's that time of year again...the Birthday Bash is back! Mark your calendars because Sammy's annual party returns to Cabo on October 9th, 11th, and 13th!
(JUL 24) NEW BIRTHDAY BASH TICKET ONSALE SAT, JULY 29 AS TRADITIONAL FIRST-COME, FIRST-SERVE. Set your alarms for 10am PT / 11am MT / 1pm ET for the traditional public onsale for all tickets not purchase via registration / random drawing. There are several hundred available across the three shows, but they will sell in a flash so don't be late and best of luck! All ticketing rules still apply. Each show's ticket links are on the REDROCKER.COM home page, as well as the individual show pages below.
(JUN 29) Winners have been randomly selected and notified via email. Winners had until Friday, July 7th to purchase tickets and all registrants could check registration status at http://www.redrocker.com/bdaybash/2023/reg-lookup.php
Those selected will be emailed ticket links to complete the purchase. NO TICKET TRANSFERS ARE ALLOWED. All submissions will be verified and multiple entries are subject to having all registrations cancelled. Valid photo ID of the purchaser will be required to be shown at the venue. The ticket limit is 2 per night, per household (billing address) and each show's drawing will be performed independently. This means a registration that requests tickets for all three nights has equal chance of being selected in each drawing.
Ticket cost: $76/ea ($1 x Sammy's age!)
Here are direct links to each show's event page:
DINNER SHOW TICKETS:
As in years past, there will be a limited number of Dinner Show Tickets available directly in Cabo San Lucas, Mexico at the Cabo Wabo Cantina. Tickets will be sold on a first come, first serve basis in Cabo. More details to come!
Questions? Contact us at: info@redrocker.com