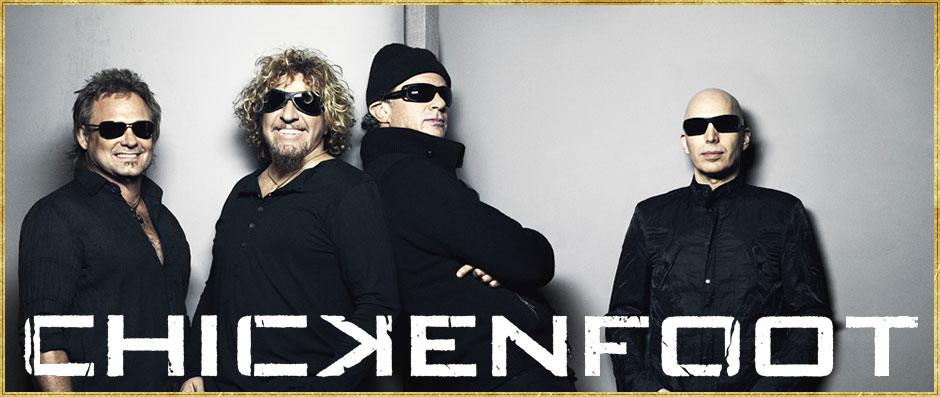 Chickenfoot Bio
Rarely has a band come freighted with such expectation and promise than the new outfit that calls itself Chickenfoot.
Yes, you read correctly - Chickenfoot. Say that name again, just to get used to its sound. Chickenfoot.
It's a silly name for a band -- and album -- that kicks a donkey's ass six ways to Sunday and back again. Maybe that's because long before the four men who comprise Chickenfoot came together they already filled the pages of rock history with enough individual mind-blowing chapters to boggle the mind.
The news that they've pooled their inordinate talents to one collective whole quickly spread across the Internet last year (and perhaps that crazy name helped just a little). The fact that they've succeeded artistically beyond anyone's wildest dreams (except perhaps their own) is all the more reason to celebrate.
First, let's consider the stellar line-up. There's Joe Satriani, he of guitar god status, a dream born on the fateful day of September 18, 1970. It was the day Jimi Hendrix died, and it was the same day that Satriani, upon hearing the news, quit his high school football team and decided, at age 14, to devote his life to the electric guitar.
Interesting, what Satriani wanted more than anything was to be part of a big-time rock band fronted by a larger-than-life singer. He bounced around from group to group, but nothing hit the mark. Finally, he scraped money together and made a record of his solo guitar recordings. Not of this Earth attracted the attention of the guitar cognoscenti. But it was 1987's Surfing with the Alien that made Satriani a household name. The album went Gold (it has since gone multi-Platinum) and went on to become a benchmark of its kind.
Since that time, Satriani has become one of the world's most influential guitarists, releasing albums such as The Extremist and Super Colossal that have sold in the millions around the world. "It was all by accident," the soft-spoken guitarist says. "I never mapped out a plan to be an instrumentalist. I really wanted to be a part of a big vocal-oriented rock band. I had offers, but nothing seemed to fit. Everything seemed like career move...until Chickenfoot."
So what about that singer? Well, that would be another guy who needs no introduction; Sammy Hagar, the original "Red Rocker", a Rock and Roll Hall of Fame inductee for his tenure with Van Halen, who made his professional debut as the singer for the much-revered group Montrose during the early 70's. As a replacement for the iconic David Lee Roth, Hagar faced what many would have viewed as an unenviable, if not impossible task, but as Hagar sees it, "I decided I wasn't going to get criticized for being the second singer in the band -- I was going to be the only singer in the band."
Hagar carried the Van Halen brand to new heights, and together they scored a string of No. 1 albums and sold tens of millions of albums. "I upheld the artistry of the band," reflects Hagar, "and brought them to new places they normally wouldn't have gone. That, to me, is what I really accomplished in that band."
Hagar wasn't looking to form a new group in his post-Van Halen career. "I really wasn't looking to have a real band, but when I got involved with these guys, only a fool would say, 'No, I'm not going to do this.' The minute we started jamming it was obvious, like, 'This is something that needs to be heard.'"
A great band is nothing without a great rhythm section, and Chickenfoot has one of the best in the two-man team of bassist Michael Anthony and drummer Chad Smith.
As a founding member (and fellow Rock and Roll Hall of Famer) of Van Halen, Anthony laid the bedrock for which guitar genius Eddie Van Halen could fly. More than that, he provided a signature style of background vocal that became an intrinsic part of that band. "A total fluke," the good-natured bassist humbly asserts. "I was just doing what came naturally."
Hagar sees Anthony's abilities differently - "Michael keeps the band going. Listen, he's never going to get the kind of credit he deserves -- he played next to Eddie Van Halen. Hell, Jack Bruce didn't get much credit compared to Eric Clapton -- that's just the nature of things. Mikey held down the fort, and he still does."
Aiding Anthony in holding down the fort is Chad Smith, drummer for the Red Hot Chili Peppers, who have, since Smith joined the group in the late Eighties, gone from cult faves to a worldwide force. Heretofore thought of as a "funk/alternative" drummer, Smith gets to rock hard with Chickenfoot, and the percussion explosion he creates might come as a surprise to those who only know of his work from tracks like Under The Bridge.
"The guy's from Detroit, for God's sake!" says Hagar. "He can play the hell out of funk, but he's a rocker. He plays hard, man. You could put one mic in a room with Chad, and you can hear all the parts of his kit -- he's hard, but he's balanced. The band wouldn't exist without his groove."
The members of Chickenfoot admit that the band came together almost by accident, a result of jams held at Hagar's club, Cabo Wabo Cantina, in Cabo San Lucas, Mexico.
"We were just having fun," recalls Michael Anthony. "After Sammy and I left Van Halen, we'd get together with musicians, and certain people seemed to really gel. Chad came down and we got on well with him. Gradually, we started talking about doing something more serious, but we needed a guitarist. Somebody smokin' - somebody who could take us to the Promised Land."
Enter Satch, who hooked up with Hagar, Anthony and Smith and felt "an immediate connection unlike anything I'd ever experienced before." To Satriani, who had almost abandoned his lifelong dream of being a part of a "big-time rock band," here was his chance, and here were his band mates. "After just a few songs, it became stunningly obvious that we shared an overall musical agenda. The only question was could we make a great album?"
The band answered that question last fall when they hunkered down with the illustrious producer Andy Johns at George Lucas' Skywalker Studios and knocked out a batch of songs that sets a new standard for rock music in the new millennium.
From the thunderous, ominous opening strains of Avenida Revolution (detailing the bloody drug wars in Tijuana, in which Hagar makes his feelings come through his skin) to the album closer, the shimmering rock ballad Future's in the Past, "Chickenfoot" is a firebomb of a record, the likes of which we haven't heard in ages.
The band kicks and snorts their way through a passel of take-no-prisoners rockers like Soap on a Rope, Sexy Little Thing, Oh Yeah and My Kind of Girl.
"These are the kinds of songs I could never do on my own," says Satriani, "I needed a band like this to make those songs come alive." The band explores mature themes on songs such as Runnin' Out, about a world stretched to the breaking point to Learning to Fall, perhaps the most poignant love song Hagar has ever written lyrics for. As both a vocalist and songwriter, Hagar's intensity and forcefulness are on vivid display on "Chickenfoot".
"I write what comes to mind," the singer says. "I'm not bound by anything subject-wise. I'm inspired by the music. When I heard the music Joe was going for, it made me reach, it made me stretch. I think it made me sing in a way that I normally wouldn't have done. We seem to have that kind of effect on each other."
Satriani agrees. "People have this idea of what this band is about, or what Sammy Hagar is about as a lyricist and a vocalist. The thing is that we manage to get each guy to up his game in a non-confrontational way. When I play with Chickenfoot, I find myself wanting to give them more all the time. I don't hold anything back. I think the rest of the guys feel the same way."
That Satriani unleashes sheets of shred magna is, of course, a given, but what's interesting is, as individualistic and recognizable as his talents are -- and this is true of all the players -- they transform in a strange and beautiful way on "Chickenfoot".
Likewise, Anthony and Smith, channel past heroes. For Anthony it's Electric Flag bassist Harvey Brooks. For Smith it's Zeppelin's John Bonham. Together, they perform something of an astonishing balancing act, dispending performances that meet at the intersection of Heavy and Nimble. This is what a rhythm section does, drives the band in forceful, creative ways. Listen to Chickenfoot and you'll hear what a true rhythm section sounds like.
By the way, did we mention they have a weird name?